"I feel blessed to be able to work as an orthodontist, as I have the potential to have a huge impact on so many lives by giving my patients confidence in their smiles.

"Some of the most amazing transformations are watching our patients' confidence grow as their teeth start looking better and better. As simple as it is, it's really rewarding to see patients feel better about smiling. A big part of the enjoyment for me is getting to work with so many different people and witnessing how our treatment affects them personally, whether they simply wanted a healthy bite or are just amazed at how great their teeth look."

– Dr. Darmitzel
Education and Continuing Education
Dr. Stephen Darmitzel was born and raised in Santa Fe and was a graduate of Santa Fe High School. For his undergraduate studies, he attended the University of Missouri on a swimming scholarship, graduating with a Bachelor's degree in biology. Dr. Darmitzel went to dental school at the University of Missouri-Kansas City, graduating as the highest ranked dental student in his class with his Doctorate of Dental Surgery. Following dental school, he went directly into a residency in orthodontics and dentofacial orthopedics, also at UMKC. In addition to the clinical requirements of residency, Dr. Darmitzel earned a Master's degree studying ceramic (clear) braces.
Dr. Darmitzel feels it is his responsibility to stay current in an ever-changing field in order to provide the most current and evidence-based treatment available. He finds it exciting to learn about new techniques and advances in the field, and regularly attends continuing education courses on orthodontics and contemporary topics in dentistry in order to stay current with advances in the profession.
Professional Affiliations
American Association of Orthodontists
Rocky Mountain Society of Orthodontists
New Mexico Association of Orthodontists
Outside the Office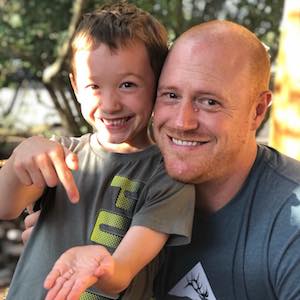 Dr. Darmitzel and his wife, Kylie, live in Santa Fe with their two boys. In addition to doing his best to be a good dad and husband, Dr. Darmitzel tries to spend as much time outside as possible. He's been an avid fly-fisher since he started tying his own flies when he was 12 years old and now enjoys getting out to the local rivers and streams as often as he can.
Dr. Darmitzel maintains his connection to the sport of swimming by coaching elementary school swim teams in Santa Fe. He also sponsors the Rio Rapids Northern Soccer Club, a great organization that gets kids involved in sports at a young age. Professionally, Dr. Darmitzel is a provider with Smiles Change Lives, a program that is dedicated to making orthodontic treatment affordable for families in need.